Melbourne Cup in Bali – 2019 Parties & Events
The Melbourne Cup is one of Australia's favourite days, where its not just 'the races', its about the culture that surrounds them too. Conducted by the Victoria Racing Club on the Flemington Racecourse in Melbourne, Victoria, the Melbourne Cup calls for garden hats, summer suits and dresses and of course a day of luxurious indulgence! How Australian indeed! Being a good neighbour to Australia, you can bet that you'll find parties celebrating the Melbourne Cup in Bali . 
Chandon Melbourne Cup at Finns VIP Beach Club (Canggu)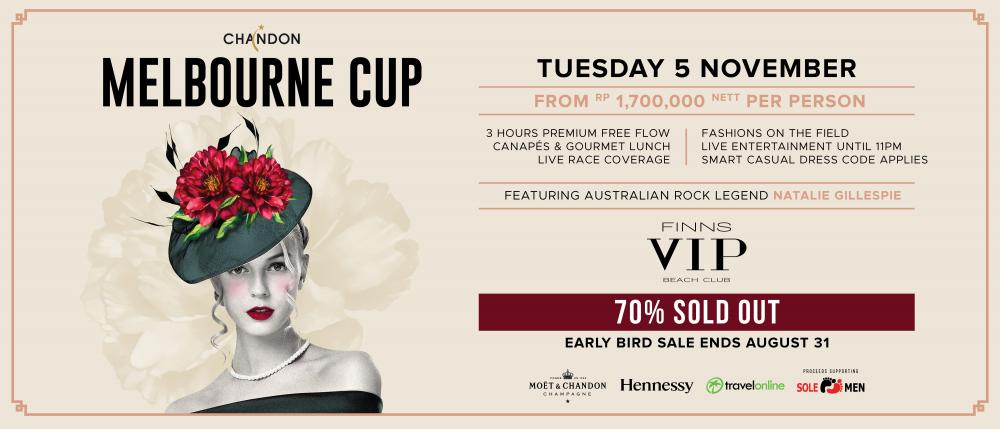 The Finns Bali group perhaps have the most famous party for the Melbourne Cup in Bali ; this huge affair is centred not only around the races but also around Charity, whereby every year huge donations are raised for one of Bali's most important organisations Solemen Indonesia.
This year, the Chandon Melbourne Cup returns to Finns VIP Beach Club in Berawa, Canggu, sprawled out along the Berawa beachfront. It will take place inside
With your ticket this year you'll receive:
• 3 hours of free-flow drinks
• Canapés and a gourmet lunch
• Fashion's on the field, live race coverage on multiple screens
• Special guest entertainer: Aussie Rock Legend Natalie Gillespie!
It's going to be a 13-hour extravaganza, starting from 10am all the way to 11pm.
There will be plenty of entertainment, as well as fundraising opportunities throughout the day. On top of the great horse races playing live of course!
Individual Tickets or whole Tables of Ten are available:
Finns VIP Beach Club Bali
Jalan Pantai Berawa, Tibuneneng
Tags:
Copy from https://nowbali.co.id/event/melbourne-cup-in-bali/